Update: This was originally written several years ago. Since then, countless members have used this method to make thousands of dollars. I wanted to bring attention to this method again because WordAi's Version 5 makes it easier than ever to create content that clients love. Why? Because you'll be able to produce content that is just as good as any competitor's for a lower rate and in a fraction of the turnaround time!
Most guides you see talking about article rewriting (or even spinning) are solely focused on creating huge amounts of content to help better rank your sites. While article rewriters can boost your SEO, there are many other benefits that barely anyone has thought to take advantage of. These hidden gems are lucrative and will give you the edge you need to make some serious money.
With that in mind, I've decided to talk about one of those methods today. It's simple to do and doesn't require any SEO, or really any expertise. All you need are basic English skills and the willingness to actually put in the time. It is fair to be skeptical of any story that claims you can make $50/hour without specialized skills. But, I can assure you (I double checked the math and even included video proof) for every hour you devote completely to this process, you can be making $50/hour, or more. If you operate inefficiently, you can expect to make less, but if you streamline your process completely, you could be making closer to $100/hour or more.
Even if you take twice as long as I did, you will still be making over $25/hour. That might not be the "get stupidly rich" money you've heard about, but that is pretty damn good for a job that requires no special skills.
There Has Got To Be A Catch!
That's the best part, there is no catch! You are just an extremely efficient content writer. Still don't believe me? Let me address the reasons you're not navigating to the nearest article rewriter at this very moment. I'll start with the most obvious one:
But Alex, $50/hour is Way More Than Freelance Content Writers Make!
You are right, and I'll do some basic math to prove it (and then tell you how you can blow past those numbers).

Freelance content writers generally charge per word and not per hour. An average content writer can usually charge somewhere between $1.00 and $1.50 per 100 words and can write around 750-1000 words per hour. That works out from anywhere to $7.50/hour to $15/hour. But that doesn't include the time spent acquiring new writing clients. So how did I make the jump from a $10/hour job to a $50/hour job? I found a way to boost productivity from writing 750 words per hour to writing at least 8,000 words per hour! If you write 8,000 words per hour, and charge a modest $0.65 per 100 words, that works out to over $50/hour!

Typing 8,000 Words Per Hour.. You Said This Was Something Anybody Could Do.
You got me there. The real secret is not that content writers can make good money. The secret is that you can be a content writer without having to write a single article for yourself. In reality, content writing does not have to be hugely difficult or time consuming. Content purchasers judge content in two ways: readability and uniqueness. Readability is straightforward: just read an article and see if it makes sense. Uniqueness is easy to understand, but a lot harder for people to judge. In the end, all a user can do is check Copyscape and see if the article has any duplicates across the web. So you can just rewrite an existing article, and as long as the content makes sense and passes Copyscape, you will have a happy buyer on the other end. Not only will the buyer appreciate that the article is unique, but Google will accept it as well.
Okay, So How Am I Supposed To Be This Hyper-Productive Content Writer?
You get help. I let WordAi do all the heavy lifting; I just put the pieces together and quickly proofread to make sure everything flows well (I only write guides like these when I can personally vouch for them). With the help of Wordai, my process can be boiled down into 3 steps. First, I find an article directory (searching "article directory" on Google will give you hundreds of them) and search for the type of article I want. Next, I put that article into WordAi, which does 99% of the rewriting for me. Finally, I skim through the result to make sure it fits the client's needs.
Can I Just Use Any Rewriter To Do This?
You could, but honestly, you will end up regretting it later on. The issue with most other rewriters (or spinners) is that if they produce unique enough content, they make mistakes so often that you end up having to rewrite the entire article anyways. Or the article comes out pretty readable but you end up with so few changes that you'll have to rewrite 50% of the article yourself before it can pass Copyscape. WordAi Version 5 is able to rewrite content in a way that is indistinguishable from a human and is still unique enough to pass copyscape.
This is a bold claim, but as you are about to see in the video below, my rewritten article is 86% unique from the original (any text above 80% uniqueness will generally pass Copyscape). This means I can use the rewrite as is, or I can do a quick skim myself with the spare time I now have.
In the above video, I rewrote the first 420 words (the first 5 paragraphs) of a draft for the article you are reading now. As you can see from the video, it took me less than one minute to paste, rewrite, edit, and export. Let me show you the math: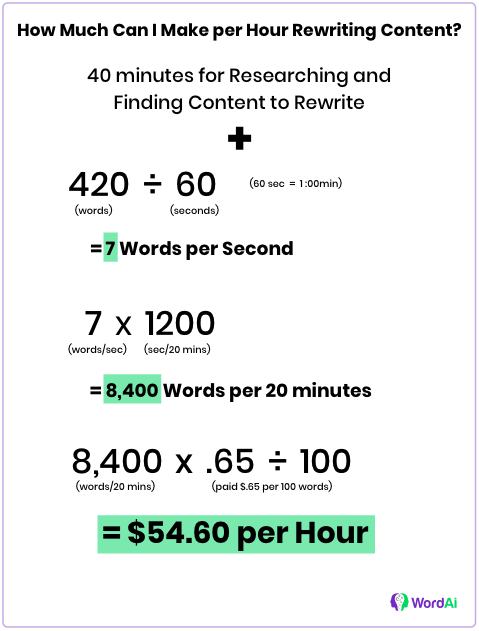 At the speed you saw, I would have made way more than $50/hr if I was spending the whole hour rewriting. But like I mentioned, you could spend 40 minutes of every hour finding content to rewrite and you would still be able to make $50/hr. But to be honest, you might not need to spend nearly 40 minutes finding content to rewrite because finding free articles from directories like Ezine Articles takes just a few seconds. Once you get into the groove of using WordAi to help you rewrite articles, you can easily make more than $50/hour selling your articles to tons of eager clients. There is no other rewriter in the world that is sophisticated enough to create content that is this readable AND is unique enough that it can pass Copyscape right off the bat, so you will be wasting time and money if you use anything else.
Wait, What About Eager Clients? How Am I Supposed To Find Them?
Free content is valuable, but it is more valuable when you have people wanting to buy it. There are tons of places to sell content, and because you are writing faster than all of your competitors, you can offer your content cheaper than anyone else. That makes it really easy to build demand and get clients lining up for your services. But enough talking, I'll just give you a couple sources where you can sell content with minimal overhead hassle or time investment:
All four of these are great places to sell content; I've had success with each of them. And of course, if you are looking to scale, there are even better sources (I left those out so readers can find them on their own)… However, if you're a dedicated WordAi user, send us a message and maybe I'll give you a hint 😉
The absolute best way to sell content, no matter which site you use, is to turn those initial customers into repeat buyers. I have done deals with clients that need millions of words per month, every month! Having guaranteed work from clients you are familiar with will make finding and writing content much much easier, which converts to less time spent searching and more dollars in your pocket. Even better, once you have a good number of stable contents you won't have to waste any time looking for new customers and can dedicate more of your efforts to churning out content!
So How Much Money Can The Average Person Really Make With This?
Initially, while you are finding your first clients, you may only make $50-60,000/yr. However, once you have a stable list of clients, the average person could be making $91-104,000/year doing this. If you only want to work part time, you can probably earn half of that. And once you've reached that point, you can just pay somebody else to use WordAi for you while you spend your day on the beach (or wherever you want to be) collecting your check while doing absolutely nothing!